Vertigo: Winter's Edge #1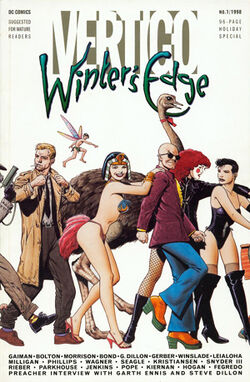 Colours
Matt Hollingsworth (colours), Jamison (separations)
Editor
Shelly Roeberg and Axel Alonso (editors)

Taking a break from Dani's family, John stows himself away in a bar, where he meets a very unusual ghost. (Dedicated to former Hellblazer editor and much-loved Vertigo boss Lou Stathis)
Plot Synopis
As John's Thanksgiving trip to America continues he decides to take a much needed break from Dani's family and go for several Christmas drinks. Ensconcing himself in a nearby bar, John meets a man who recants the tale of a man and woman who worked for the same magazine.
The man was loud and sarcastic, he wrote caustic music reviews for the mag whilst the woman was quieter and responsible for most of the magazines news articles. Eventually the pair ended up going out together (a relationship that started after they both had one too many drinks). Everything was fine until the man was diagnosed as having brain cancer. Despite surgery, the man eventually passes away.
Constantine's drinking partner reveals that this will be the woman's first Christmas alone before leaving John (referring to him as 'Constantine' despite John not telling him his name) with a toy rabbit. Leaving the bar, John bumps into a group of women, one of whom he recognises as the woman from the mans tale. Realising that the man was the ghost of her dead boyfriend, John gives her the bunny and passes on a message from him (the dead boyfriend).
Community content is available under
CC-BY-SA
unless otherwise noted.