Another round of solicitations have been released for Vertigo and DC Comics! No House of Mystery Halloween Annual this time around, more's the pity. Lots of other good stuff coming, though...
Hellblazer #284 (Vertigo Comics)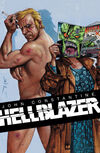 Written by PETER MILLIGAN • Art by GAEL BERTRAND
Cover by SIMON BISLEY
When Georgie comes into possession of Constantine's trench coat, she finds her life imitating the art from her favorite comic book. Meanwhile, Constantine's attempts to repay a debt he owes his father-in-law ends in bloody disaster – and speaking of debts, Tamsin the witch thinks she owns a piece of our urban mage's errant niece, Gemma.
On sale OCTOBER 19 • 32 pg, FC, $2.99 US • MATURE READERS
Justice League Dark #2 (DC Comics)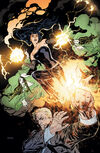 Written by PETER MILLIGAN • Art by MIKEL JANIN
Cover by RYAN SOOK
Madame Xanadu continues guiding the world's darkest heroes in their struggle against evil. But will John Constantine, Zatanna, Shade the Changing Man and the others be able to join forces in time to defeat the dangerous Enchantress before she destroys the world as we know it?
On sale OCTOBER 26 • 32 pg, FC, $2.99 US • RATED T
Swamp Thing #2 (DC Comics)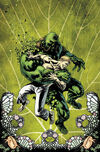 Written by SCOTT SNYDER • Art and YANICK PAQUETTE
Cover by YANICK PAQUETTE
Alec Holland thought he knew the history of the Swamp Thing – but he was wrong. The creature's roots run deeper than he knows, and the Parliament of Trees intends to make him understand the responsibility he wants so desperately to avoid! With this issue, the mythology of the Swamp Thing branches out in ways you never saw coming – don't miss it!
On sale OCTOBER 5 • 32 pg, FC, $2.99 US • RATED T+
Community content is available under
CC-BY-SA
unless otherwise noted.