Another round of solicitations have been released for Vertigo and DC Comics. Looks like Abby Holland and Anton Arcane will be re-entering Swamp Thing's life soon...
Hellblazer #285 (Vertigo Comics)
Written by PETER MILLIGAN • Art by GIUSEPPE CAMUNCOLI and CARLI IDHE
Cover by SIMON BISLEY
Things have been strange since John Constantine's niece Gemma sold his trenchcoat – like bleeding apartment walls and unplanned visits to the middle of the Thames. And now this peculiar garment is working its murderous way to America. Constantine's getting hot under the collar – but still refuses to empty his pockets in "The Burning Man".
On sale NOVEMBER 23 • 32 pg, FC, $2.99 US • MATURE READERS
Justice League Dark #3 (DC Comics)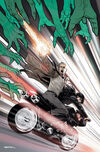 Written by PETER MILLIGAN • Art by MIKEL JANIN
Cover by RYAN SOOK
What is Madame Xanadu's plan? And why is she urging Shade the Changing Man to recruit a killer? One by one, our anti-hero misfits are drawn inexplicably to each other... While John Constantine aids Zatanna in escaping a town destroyed by magic, June Moon seeks help from Deadman. But in the end, will any of it be enough to escape the dark clutches of the insane and powerful Enchantress?
On sale NOVEMBER 23• 32 pg, FC, $2.99 US • RATED T
Swamp Thing #3 (DC Comics)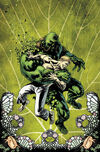 Written by SCOTT SNYDER • Art YANICK PAQUETTE and VICTOR IBANEZ
Cover by YANICK PAQUETTE
The forces of decay are summoning their servants, and the Green alone cannot protect Alec Holland – but one woman can! Alec may not know her, but he should! And only he can help her before the darkness finds its key to spreading across the world unchecked. But unfortunately for Alec's mysterious benefactor, that "key" is part of the family...
On sale NOVEMBER 2 • 32 pg, FC, $2.99 US • RATED T+
Community content is available under
CC-BY-SA
unless otherwise noted.