The Roots of Coincidence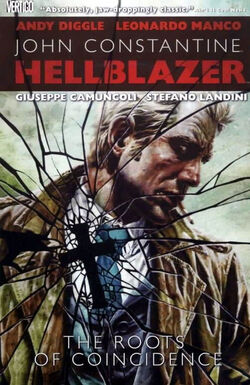 Aliases
John Constantine, Hellblazer: The Roots of Coincidence
Publisher(s)
DC, Vertigo, Titan Books
ISBN number
Vertigo ISBN 9-78140122-251-2
Joyride collects issues 243-244 and 247-249 of the Hellblazer series. It is the last collection by Andy Diggle. Issues 245 and 246 were a two-part fill-in story written by Jason Aaron.
Publisher's description
Constantine must discover who has been manipulating recent events around him in this collection featuring Hellblazer #243-244 and #247-249. But first he must understand his own relationship to the web of synchronicity that binds his life. To do so, he will tap into a source of terrifying and blasphemous power, and what it reveals will change his life forever.
Storylines collected
For detailed plot synopses, see the issues' individual wiki pages.
The Mortification of the Flesh
(Issue 243-244) A priest faces damnation and worse when he traps a succubus in the Vatican. And help will come from the most unlikely source...
The Roots of Coincidence
(Issue 247-249) Constantine faces off against cannibal mage Mako and the murderous Lord Burnham. But with two dangerous foes teaming up, what chance does he stand?