The Red Right Hand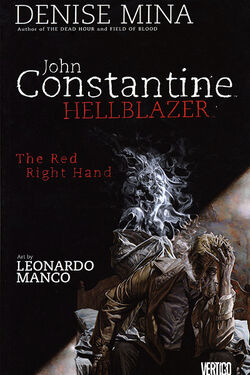 Aliases
John Constantine, Hellblazer: The Red Right Hand
Publisher(s)
DC, Vertigo, Titan Books
The Red Right Hand collects issues 223-228 of the Hellblazer series. It is the second of two books by Denise Mina.
Publisher's description
Collecting Hellblazer #223-228, written by best-selling author Denise Mina! Steve Evans' dream of universal empathy proves to be hell on Earth for Glasgow, where he finds there's far more pain to go around than he'd ever imagined. Glaswegians are tearing each other apart, and now Evans needs John Constantine's help to stop the carnage. Too bad he just buried Constantine alive.
Storylines collected
For detailed plot synopses, see the issues' individual wiki pages.
The Season of the Zealot
(Issue 223) Set before Empathy is the Enemy, this story sees Constantine contacted by Map, who needs his help to stop a deranged fanatic from detonating a bomb on the London Underground.
The Red Right Hand
(Issues 224-228) The empathy virus has spread right across Glasgow, spelling doom for thousands as the anger and hatred of their neighbours destroys their will to live. With the city in ruins and just a rag-tag team of losers at his call, can even Constantine fix this disaster?