The Laughing Magician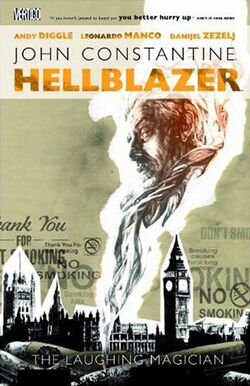 Aliases
John Constantine, Hellblazer: The Laughing Magician
Publisher(s)
DC, Vertigo, Titan Books
ISBN number
Vertigo ISBN 9-78140121-651-1

This is about the story arc and collection. For the characters see The Laughing Magicians (characters).
The Laughing Magician collects issues 238-242 of Hellblazer. Collecting issues #238-242 of Vertigo's longest running series, written by Andy Diggle (The Losers, Green Arrow: Year One).
Storylines collected
For detailed plot synopses, see the issues' individual wiki pages.
The Smoke
(Issue 238) A message from Map puts Constantine on the trail of three urban explorers who've stepped out of London's labyrinthine underground system and into a terrifying place where belief can shape reality.
The Passage
(Issue 239) In the wilds of Africa, a hapless man flees a murderous militia, carrying something of grave importance...
The Laughing Magician
(Issues 240-242) John receives a tree branch. But what is it for? And why does the merciless killer Mako want it so badly?