The Horrorist #1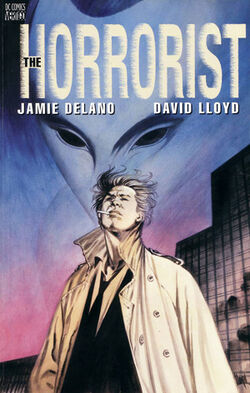 Story title(s)
'Antarctica, part 1'
The Horrorist #1 (Month and year) Put a brief synopsis of the issue's contents here.
Plot summary
A world-weary Constantine watches as a violent episode erupts at a bar, but the incident fails to elicit any emotional response from him whatsoever. He then takes in the services of an S&M dominatrix only to realize that his soul is empty, and he cannot feel emotions of any kind anymore. A chance encounter with a stunning billboard photograph re-lights the flames of his passion, however. He sets off to identify the enchanting face by tracking down the photographer. The photographer gives him some vague details about the photo in question, indicating only that it originated in a war zone in Africa, and the subject was eventually taken in by Christian missionaries from the US. Constantine embarks on a mission of his own to find this beautiful young refugee .
Continuity
Use this section for listing in-story connections with Hellblazer and other comic books.
Discontinuity
Use this section to list contradictions with established continuity.
Goofs
Use this section to list mistakes that have appeared in this issue.
Notes
Use this section for general notes on the issue and story.
Community content is available under
CC-BY-SA
unless otherwise noted.