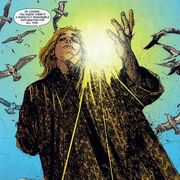 John Constantine's more perfect twin, who died before birth. He was ostensibly meant to be the greatest magus who would live, uniting Britain in an age of magi, but apparently died before being born. There were two explanation surrounding the infant's death; one was that the father Thomas Costantine attempted to get rid of it using a botched abortion, and two is that the other twin infant John Constantine unknowingly strangled him to death with their own umbilical cord.  It later turns out that his spirit had been manipulating the events in John's life, including his cancer during Garth Ennis' Dangerous Habits, and his memory loss during Mike Carey's Stations of the Cross arc.
He apparently lives in an alternate universe where he survived while John was the one who perished. That universe itself lives in an almost perfect world with him as its ruler. His looks appears to be of similar of John, but is more beautiful and healthy, and sports longer, more golden hair.
First Appearance in Hellblazer issue 35.
In the universe where the Golden Boy survived, he is named the most powerful magician. His powers largely involves his total dominion over the Synchronicity Wave Travelling, which he can even use in John's own universe to control his life. This involves putting John to all sorts of vile predicaments that the latter was suppose to die in, this includes John's lung cancer and his memory loss, but John managed to survive all of this with his traditional guile and trickery. The Golden Boy's powers over the Synchronicity Wave allows him to omnipotently use The First of the Fallen and even God in his plans.
In Constantine's story arc Earth's End, John meets another version of himself in Earth 2 that is reminescent of the Golden Boy. Like his Hellblazer counterpart, this John was a good man with a perfect family and friends who love him. And like in Hellblazer, John also ends up killing this version for his own gains.
The Golden Boy was finally reintergrated into the DC Universe when he was mentioned by a demon in The Hellblazer: Rebirth.