The Devil You Know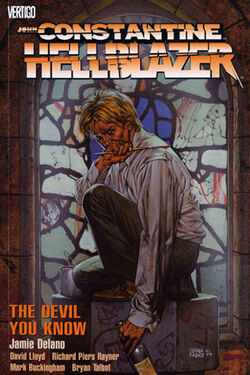 Aliases
John Constantine, Hellblazer: The Devil You Know
Publisher(s)
DC, Vertigo, Titan Books
The Devil You Know collects issues 10-13 of the series, plus Hellblazer Annual 1 and both issues of The Horrorist.
Publisher's description
This volume features some of Constantine's earliest adventures by writer Jamie Delano, including his first victory in the long war with the demon Nergal and an encounter with a strange woman who is the embodiment of the world's horrors, painted by V for Vendetta co-creator David Lloyd.
Storylines collected
For detailed plot synopses, see the issues' individual wiki pages. Where a storyline spans several issues but has no over-arcing title, the title of the first issue is used.
Sex & Death
(Issues 10-12) With the Resurrection Crusade destroyed, Constantine must find a way to stop the demon Nergal from filling the power vacuum. To do that he must travel the astral planes, make an alliance with a transformed friend and revisit the scene of the defeat that drove him into the clutches of insanity.
On the Beach
(Issue 13) Still recuperating from his battle with Nergal, Constantine tries to have a relaxing day at the beach - but comes a cropper when a nearby nuclear power plant goes critical.
The Bloody Saint
(Hellblazer Annual #1) Still wrestling with madness, a younger Constantine has a vision of his pagan ancestor, Kon-sten-tyn, who beheaded Merlin and manipulated the Christian God.
Venus of the Hardsell
(Hellblazer Annual #1) A look at the music video produced for Constantine's old punk band, Mucous Membrane.
Antarctica
(The Horrorist #1-2) Wearied and worn, Constantine finds himself on the trail of a mysterious orphan girl whose trip across America brings the horror of the third world in its wake.
Publication history
Although this book follows on directly from the cliffhanger at the end of Original Sins, it wasn't printed until 2007. Poor sales of Original Sins meant that Vertigo weren't prepared to reprint the book until 2005's Constantine movie increased demand.
Notes
Despite containing only Jamie Delano-written issues, the cover of this book is taken from the Garth Ennis-written issue 81.