Gordon Matthew Thomas Sumner
CBE (born 2 October 1951), known professionally as
Sting
, is an English singer,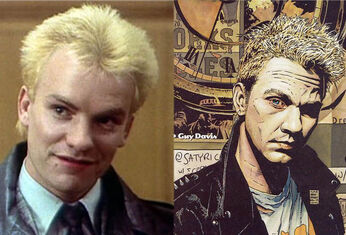 songwriter, and actor. He was the principal songwriter, lead singer, and bassist for the new wave rock band The Police from 1977 to 1984, before launching a solo career.
The British music icon became the inspiration behind the character of John Constantine, with creator Alan Moore stating that, "Constantine was the result of "fit[ting] it all together." Initially created "purely to get Sting into the story."
When writer Alan Moore and artists Steve Bissette and John Totleben created the character, they looked to a rock star for their inspiration: Sting. All three men were fans of The Police, and when you look at early Constantine, the resemblance is unmistakable. In Swamp Thing #51, Constantine even pops up on a boat named "The Honorable Gordon Sumner" (Gordon Sumner is Sting's real name). According to rumor, at some point, Sting actually gave Constantine his seal of approval.
Community content is available under
CC-BY-SA
unless otherwise noted.