Staring at the Wall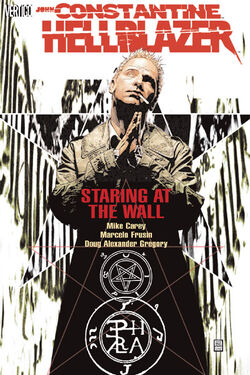 Aliases
John Constantine, Hellblazer: Staring at the Wall
Publisher(s)
DC, Vertigo, Titan Books
Staring at the Wall collects issues 187-193 of the Hellblazer series.
Publisher's description
The looming apocalypse arrives in the third collection of writer Mike Carey's acclaimed run on Hellblazer, reprinting the two-part "Bred in the Bone" (illustrated by Doug Alexander Gregory) and the five-part "Staring at the Wall" (illustrated by Marcelo Frusin) from issues #187-193.
Storylines collected
For detailed plot synopses, see the issues' individual wiki pages.
Bred in the Bone
(Issue 187-188) Contacted by Ghant, a sinister 'friend' of her uncle's, Gemma Masters - now calling herself Gemma Constantine - finds herself being taken to Gruinard island off the coast of Britain, where a group of lonely orphans hide a horrible secret.
Staring at the Wall
(Issues 189-193) The doors between this world and the next are open and the Shadow Dog has passed through, bringing madness and murder in its wake. To combat the creature, John brings together a team of magical experts with the power and knowledge to kill the creature. It's the only plan he has - and the worst mistake he could make!