Son of Man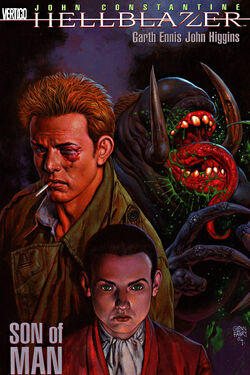 Aliases
John Constantine, Hellblazer: Son of Man
Publisher(s)
DC, Vertigo, Titan Books
Son of Man collects issues 129-133 of the Hellblazer series.
Publisher's description
A new trade paperback collecting Hellblazer #129-133, written by Preacher co-creator Garth Ennis with art by War Story's John Higgins. John Constantine's pulled a lot of shady stunts over the years, but perhaps none as bad as the time he "resurrected" organized crime boss Harry Cooper's five-year-old son, Ronnie. Now, 15 years later, he's got to deal with the ungodly consequences of his actions as the now-adult Ronnie prepares to bring an unprecedented evil into the world.
Storylines collected
For detailed plot synopses, see the issues' individual wiki pages.
Son of Man
(Issue 129-133) When Chas runs in covered in blood and holding a gun, John thinks it can't get any worse. It does. Soon he's contending with crooked cops, terrifying gangsters and a monstrous link to his own past that could set London ablaze.
Community content is available under
CC-BY-SA
unless otherwise noted.