Rac Shade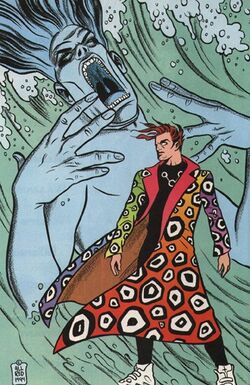 An alien from the planet Meta, Shade originally came to Earth to fight the American Scream. His real name was Rac Shade. Shade has the power to warp reality and dimensions using his M-Vest.
As one of Peter Milligan's well known remake, the writer makes Shade cross paths with John Constantine during his run on the series. John and Shade first met during the Hotel Shade arc in Peter Milligan's run on the series Shade the Changing Man, in which John was taken from his own time (the 80s) and travels to present day (90s) to help Shade and his friends overcome Shade's apparent lost of control.
Shade and John would meet again in Hellblazer issue 269 when John Constantine summoned him. They work together to get John's future wife Epiphany, where Shade mistaken Epiphany for his former lover Kathy.
Shade and John were teammates in the New 52 team Justice League Dark.
Powers and abilities
Using his powerful M-Vest, Shade is granted almost omnipotent reality warping powers. He can teleport, is extremely durable, and can even create other lifeforms and universes (though it has limitations).