Scab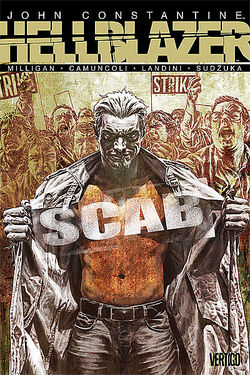 Aliases
John Constantine, Hellblazer: Scab
Publisher(s)
DC, Vertigo, Titan Books
Scab collects issues 251-255 of the Hellblazer series, plus a short story from issue 250. It is the first collection of Peter Milligan's run.
Publisher's description
The first Hellblazer collection from writer Peter Milligan! What's the bizarre link behind a horrifying skin condition affecting Constantine, his new girlfriend and a bloody union strike from twelve years ago? Find out in this title collecting Hellblazer #251-255 and a story from #250.
Storylines collected
For detailed plot synopses, see the issues' individual wiki pages.
Scab
(Issue 251-255) John's falling in love with a beautiful young doctor, his life seems to be halfway in order and everything is good. So what's making his skin crawl? Where did the monstrous unborn child come from? And what does this have to do with the union strikes of the '80s?
Regeneration
(Issue 256-257) The Olympics are coming to London, but the building site for the new sports ground is haunted by a beak-nosed ghost. Constantine investigates and discovers that things are not always what they seem.
The Curse of Christmas
(Short story from issue 250) Christmas time is stressful enough without having a moaning old ghost on your back. But that's exactly what's happened to Constantine. And until he can find out what killed the poor sod, he's unlikely to have a silent night.
Community content is available under
CC-BY-SA
unless otherwise noted.