Red Sepulchre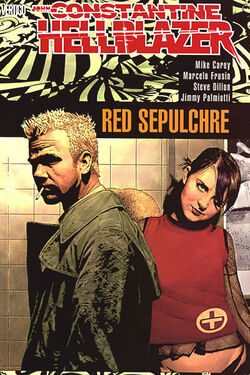 Aliases
John Constantine, Hellblazer: Red Sepulchre
Publisher(s)
DC, Vertigo, Titan Books
Red Sepulchre collects issues 175-180 of the Hellblazer series.
Publisher's description
A new trade paperback collecting issues #175-180 of the flagship Vertigo series! In pursuit of his runaway niece Gemma, Constantine faces a crew that thinks they can use her as a goad to make him do their bidding. But Constantine has never been known for taking orders — or for his forgiving nature.
Storylines collected
For detailed plot synopses, see the issues' individual wiki pages.
High on Life
(Issue 175-176) Registered dead and moving under the radar, Constantine arrives back in his native Liverpool to find his sister and brother-in-law in disarray. Their daughter, Gemma, is unreachable and the two are perpetually bickering. Worse, a series of suicides and murders have plagued the area. Still finding his feet, John gets to work...
Red Sepulchre
(Issue 177-180) Back in London at last, John follows a trail of clues to find his missing niece. But to get to her he will have to get past a brutal and bitter enemy - and something much, much worse.