Rake at the Gates of Hell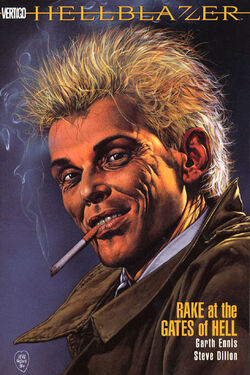 Aliases
John Constantine, Hellblazer: Rake at the Gates of Hell
Publisher(s)
DC, Vertigo, Titan Books
Rake at the Gates of Hell collects issues 78-83 of the Hellblazer series.
Publisher's description
A new volume reprinting Garth Ennis' and Steve Dillon's final Hellblazer arc in issues #78-83 as well as the special one-shot Heartland. John Constantine heads towards a final showdown with a revenge-crazed Satan during a raging race riot, and in addition to desperately trying to save his dwindling number of living friends, Constantine also has one final reunion with his lost love Kit.
Storylines collected
For detailed plot synopses, see the issues' individual wiki pages.
Rake at the Gates of Hell
(Issue 78-83) Everything comes to a head in this violent and shocking finale. Having finally found a way to break the deadlock between him and the other Fallen, The First of the Fallen makes his move to destroy Constantine. But John's making his own moves against the demon - ones that will put his closest friends in the line of fire.
Heartland
(From the Heartland special) Tempers flare and secrets are revealed as Kit deals with her fractious family at home in Belfast. Note: this is the one-shot spin-off story; the Hellblazer issue of the same name is reprinted in Tainted Love.
Trivia