Papa Midnite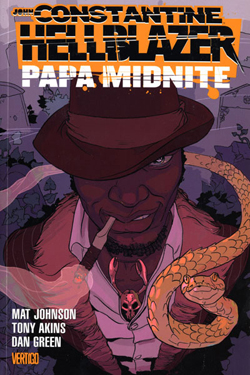 Aliases
John Constantine: Hellblazer: Papa Midnite
Publisher(s)
DC, Vertigo, Titan Books
Release date
5 April 2006
Publisher's description
The King of Voodoo has a long history, but where did it all begin? The answer can be found in Hellblazer: Papa Midnite, collecting the acclaimed five-issue Vertigo miniseries that follows the story of the curse that made Midnite immortal, from its origin in 1712 through the failed slave rebellion of 1741 and into the present day, where he continues to pay the price for his original sin.
Storyline collected
For a detailed plot description, see the individual issue write-ups.
Papa Midnite
(Papa Midnite issue one-five) When a ghost with a message appears before New York's voodoo crime lord, Papa Midnite has no choice but to follow him. But their journey will be a strange and terrible one that will take them from Midnite's youth in 1712, through the terrible events that granted him immortality and right back up to the present - where John Constantine awaits...