Marj and Mercury
Occupation
Hippies, magicians

Marj and her daughter Mercury were characters that first appeared in Hellblazer issue 14 who travels with a group of hippies and environmentalist in the United Kingdom. They were two of the most prominent characters during Jamie Delano's run in the series with Marj serving as another of John's love interests. Marj's daughter Mercury was a powerful psychic that has the powers to call upon celestial beings such as Dream and the Fear Machine.
John first met them while running away from a misunderstood murder charge, where the young teenage Mercury found him and was later smitten with the magus. However, it was her mother Marj whom John had a relationship with, much to the dismay of the young girl. However, a group of secret police sent by the Freemasons, destroyed the group and kidnapped Mercury to use her powers. John managed to save Mercury and together with Zed, bounded and prevented a catastrophic disaster set on the world.
Mercury later set John down the path that led to his discovery of 'The Golden Child'. The two later left to join Zed's shamanistic group by the end of Delano's run.
In the DCU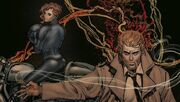 During DC's rebirth event, the character of Mercury makes her first appearance in The Hellblazer: Rebirth. Mercury, now a grown-up teen, helps John when the Magus was fighting against a powerful demon who had cursed him. The curse was that as long as John stays in London, his soul will be ripped away from his body, killing him. This forced John to leave London to New York. But after his adventures in Constantine: The Hellblazer, John decided to return.
Although it was shown that Mercury harbored disdain against John, she nonetheless helps him when the magus threatened to spread the curse throughout London, killing all of its inhabitants.
Mercury uses her telepathy to discover the demon's name and informs John, who then uses it to bluff the demon into removing the curse and forcing him back to Hell.