London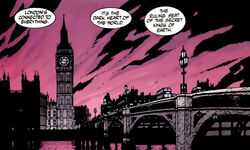 London is the capital of Britain and John Constantine's adopted home, so unsurprisingly its first appearance was in Hellblazer issue 1. Though Constantine has lived and travelled all over the world, the majority of his adventures are set in and around the city.
Fictional chronology
August 1665: Barnaby Magnus confronts a demon planning to feed on the souls of black plague victims to gain control of the city. He defeats it and binds it inside the London Stone, where it remains for 400 years. The spell requires people to mark sigils at particular points on the London map; to ensure that this information is passed down, Barnaby creates a system of 'runs' that he teaches to hackney carriage drivers across the city. These runs eventually become 'The Knowledge', taught to trainee London cab drivers to this day. (Chas: The Knowledge issue two, 2008)
1968 John Constantine leaves home and runs to London for the first time. (Love Street issue 1, 1999)
Notable London locations
The Caligula Club, a twisted, exclusive club that caters to the deviant desires of London's richest members - including some associated with the occult.
The Tate Club, a private club that plays home to London's mages.

The lock-ups

owned by Chas Chandler and John Constantine and used to store John's occult artefacts.

The London Underground

train system where Map lives and works.

The British Museum

, home to occult artefacts and experts.
Notable issues and stories set in London
'Telling Tales' has Constantine giving an occult (and largely fabricated) history of the city.
'The Game of Cat and Mouse' sees Constantine running through a set of geographically accurate London locations to escape the demons at his heels.