Collected editions
Hellblazer
had earlier been incompletely collected as a number of
trade paperbacks
by
Vertigo
. As of April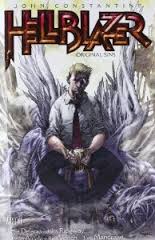 2011, Vertigo has begun to republish the series in new numbered editions, collecting the series in proper chronological order. The company is now including issues that were left out of earlier volumes, along with short stories and prose pieces from other Vertigo anthologies. Seven volumes have been published as of January, 2014.
[1]
The following table lists them in chronological order.
[2]
They are preceded by vols. 3–7 of
Swamp Thing
.
Title
Trade Paperbacks
Writer(s)
Story arcs reprinted
Hellblazer, Vol. 1: Original Sins
Collects HELLBLAZER #1–9; tie-in story from SWAMP THING #76-77
Jamie Delano
Rick Veitch
"Hunger", "A Feast of Friends", "Going for It", "Waiting for the Man", "When Johnny Comes Marching Home", "Extreme Prejudice", "Ghosts in the Machine", "Intensive Care", "Shot to Hell"
(New edition also contains: "L'Adoration de la Terre" by Veitch and "Infernal Triangles" by Delano from Swamp Thing)
Hellblazer, Vol. 2: The Devil You Know
Collects HELLBLAZER #10–13; HELLBLAZER ANNUAL #1; THE HORRORIST #1-2
Jamie Delano
"Sex and Death", "Newcastle: A Taste of Things to Come", "The Devil You Know...", "On the Beach", "The Bloody Saint", "Venus of the Hardsell", "Antarctica"
Hellblazer, Vol. 3: The Fear Machine
Collects HELLBLAZER #14–22
Jamie Delano
"The Fear Machine"
Hellblazer, Vol. 4: The Family Man
Collects HELLBLAZER #23-33
Jamie Delano
Dick Foreman
Grant Morrison
Neil Gaiman
"Larger Than Life", "The Family Man", "Thicker Than Water", "Sick at Heart", "Fatality", "Mourning of the Magician", "New Tricks", "Sundays Are Different"
(2012 edition also contains: "Early Warning", "How I Learned to Love the Bomb", "Hold Me", and "The Gangster, the Whore and the Magician")
Hellblazer, Vol. 5: Dangerous Habits
Collects HELLBLAZER #34-46
Jamie Delano
Garth Ennis
"The Bogeyman", "Dead-Boy's Heart", "The Undiscovered Country...", "Man's Work", "Boy's Games", "The Hanged Man", "The Magus", "Dangerous Habits"
Hellblazer, Vol. 6: Bloodlines
Collects HELLBLAZER #47-61
Garth Ennis
"The Pub Where I Was Born", "Love Kills", "The Lord of the Dance", "Remarkable Lives", "Royal Blood", "Guys and Dolls"
Hellblazer, Vol. 7: Tainted Love
Collects HELLBLAZER #62-71; HELLBLAZER SPECIAL #1; and a story from VERTIGO JAM #1
Garth Ennis
"Tainted Love", "Down All the Days", "Rough Trade", "Heartland", "Finest Hour", "Confessional"
Hellblazer, Vol. 8: Rake at the Gates of Hell
Collects HELLBLAZER #72–84; HEARTLAND #1
Garth Ennis
Jamie Delano
"Damnation's Flame", "Act of Union", "Confessions of an Irish Rebel", "And the Crowd Goes Wild", "Rake at the Gates of Hell", "In Another Part of Hell", "Heartland"
Hellblazer, Vol. 9: Critical Mass
Collects HELLBLAZER #85-96
Paul Jenkins
Eddie Campbell
"Dreamtime", "Warped Notions"
Hellblazer, Vol. 10: In the Line of Fire
Collects HELLBLAZER #97-107
Paul Jenkins
"Difficult Beginnings"
Hellblazer: Son of Man
Collects HELLBLAZER #129–133
Garth Ennis
"Son of Man"
Hellblazer: Haunted
Collects HELLBLAZER #134–139
Warren Ellis
"Haunted"
Hellblazer: Setting Sun
Collects HELLBLAZER #140–143
Warren Ellis
"Locked", "The Crib", "Setting Sun", "One Last Love Song", "Telling Tales"
Hellblazer: Shoot
Collects HELLBLAZER #144, 145, 245-246, 250 and VERTIGO RESURRECTED: HELLBLAZER--SHOOT #1
Warren Ellis
Jason Aaron
Darko Macan
Dave Gibbons
Jamie Delano
Brian Azzarello
Peter Milligan
China Miéville
"Shoot", "Ashes & Honey", "Newcastle Calling", "Happy Fucking New Year", "Christmas Cards", "All I Goat for Christmas", "The Curse of Christmas", "Snow Had Fallen"
Hellblazer: Hard Time
Collects HELLBLAZER #146–150
Brian Azzarello
"Hard Time"
Hellblazer: Good Intentions
Collects HELLBLAZER #151–156
Brian Azzarello
"Good Intentions"
Hellblazer: Freezes Over
Collects HELLBLAZER #157–163
Brian Azzarello
"...And Buried?", "Freezes Over", "Lapdogs and Englishmen"
Hellblazer: Highwater
Collects HELLBLAZER #164–174
Brian Azzarello
"Highwater", "A Fresh Coat of Red Paint", "Chasing Demons", "Ashes and Dust in the City of Angels"
Hellblazer: Red Sepulchre
Collects HELLBLAZER #175–180
Mike Carey
"High on Life", "Red Sepulchre"
Hellblazer: Black Flowers
Collects HELLBLAZER #181–186
Mike Carey
"The Game of Cat and Mouse", "Black Flowers", "Third Worlds"
Hellblazer: Staring at the Wall
Collects HELLBLAZER #187–193
Mike Carey
"Bred in the Bone", "Staring at the Wall"
Hellblazer: Stations of the Cross
Collects HELLBLAZER #194–200
Mike Carey
"Ward 24", "Out of Season", "Stations of the Cross", "Happy Families"
Hellblazer: Reasons to be Cheerful
Collects HELLBLAZER #201–206
Mike Carey
"Event Horizon", "Reasons to be Cheerful", "Cross Purpose"
Hellblazer: The Gift
Collects HELLBLAZER #207–215
Mike Carey
"Down in the Ground Where the Dead Men Go", "The Gift", "R.S.V.P."
Hellblazer: Empathy is the Enemy
Collects HELLBLAZER #216–222
Denise Mina
"Empathy is the Enemy"
Hellblazer: The Red Right Hand
Collects HELLBLAZER #223–228
Denise Mina
"The Season of the Zealot", "The Red Right Hand"
Hellblazer: Joyride
Collects HELLBLAZER #230–237
Andy Diggle
"In at the Deep End", "Wheels of Chance, Systems of Control", "Joyride"
Hellblazer: The Laughing Magician
Collects HELLBLAZER #238–242
Andy Diggle
"The Smoke", "The Passage", "The Laughing Magician"
Hellblazer: Roots of Coincidence
Collects HELLBLAZER #243-244, 247-249
Andy Diggle
"The Mortification of the Flesh", "The Roots of Coincidence"
Hellblazer: Scab
Collects HELLBLAZER #251-255 and a story from #250
Peter Milligan
"The Curse of Christmas", "Scab", "Regeneration"
Hellblazer: Hooked
Collects HELLBLAZER #256-260
Peter Milligan
"Hooked", "The Cottage", "The Long Crap Friday"
Hellblazer: India
Collects HELLBLAZER #261-266
Peter Milligan
"India", "No Future"
Hellblazer: Bloody Carnations
Collects HELLBLAZER #267-275
Peter Milligan
"Sectioned", "Bloody Carnations", "The Royal Wedding of the Century"
Hellblazer: Phantom Pains
Collects HELLBLAZER #276-282
Peter Milligan
"High Frequency Man", "Phantom Pains", "Inside"
Hellblazer: The Devil's Trenchcoat
Collects HELLBLAZER #283-291
Peter Milligan
"The Devil's Trenchcoat", "Another Season in Hell"
Hellblazer: Death and Cigarettes
Collects HELLBLAZER #292-300; HELLBLAZER ANNUAL #1
Peter Milligan
"Death and Cigarettes"
Other collections
Constantine is found in most Swamp Thing collections beginning with volume 3, The Curse. He appears in every subsequent volume of the 1985 series and in volume 1, Bad Seed, of the 2004 series. He also appears in the final chapter of Brightest Day.
In 2010, Vertigo began publishing 100-page reprints of previously unpublished or "forgotten" stories that would not fit easily in larger collections, under the banner "Vertigo Resurrected". The collections listed below contain John Constantine stories:
Vertigo Resurrected: Shoot prints Warren Ellis, Phil Jimenez, and Andy Lanning's previously unpublished Hellblazer story "Shoot", along with reprints of some non-John Constantine stories. (No ISBN. First printing October 13, 2010.)
Vertigo Resurrected: Winter's Edge reprints Paul Jenkins and Paul Pope's "Tell Me" story, previously published in Vertigo: Winter's Edge #1; Garth Ennis and Glyn Dillon's "All Those Little Girls and Boys" story, previously published in Vertigo: Winter's Edge #2; and Dave Gibbons's illustrated prose story "Another Bloody Christmas", previously published in Vertigo: Winter's Edge #3; along with reprints of some non-John Constantine stories. (No ISBN. First printing November 24, 2010.)
Vertigo Resurrected: Hellblazer reprints Garth Ennis and Steve Dillon's "Mortal Clay" and "Body and Soul" stories, previously published in Hellblazer #57–58; and Jason Aaron and Sean Murphy's "Newcastle Calling, Parts One and Two" stories, previously published in Hellblazer #245–246. (No ISBN. First printing December 8, 2010.)
Vertigo Resurrected: Bad Blood reprints Jamie Delano's Hellblazer special. (No ISBN. First printing June 2011.)
Out of print trades
Constantine: The Hellblazer Collection (movie tie-in)
Rare Cuts
Garth Ennis's Rake at the Gates of Hell and Son of Man
Warren Ellis's Haunted
Mike Carey's Black Flowers and Staring at the Wall
Brian Azzarello's Hard Time, Good Intentions and Highwater
Denise Mina's The Red Right Hand
Andy Diggle's The Laughing Magician
Graphic novels
There have also been a number of original graphic novels:
All His Engines, by Mike Carey, involves Constantine trying to solve the mystery of a strange sickness sweeping the globe.[3] It also includes a character summary and history of the series taken from Vertigo Secret Files: Hellblazer.
Hellblazer: Pandemonium, by Jamie Delano and Jock, originally scheduled for release in 2008, was held back until 2010 (being the 25th year since Constantine's first appearance). The novel sees Constantine visiting Iraq. The story also reflects on the history of Constantine.[4][5]
Dark Entries,[6][7] written by Ian Rankin with art by Werther Dell'Edera and cover art by Lee Bermejo, is a 216-page black-and-white original hardcover graphic novel under the Vertigo Crime "sub-print".[8] It stars John Constantine without the "Hellblazer" banner below his name, much like the The Horrorist, which was released as a two-part, prestige format mini-series. The story concerns Constantine's investigation of mysterious deaths during the broadcast of a reality TV show.
Novels
Author John Shirley has written three Hellblazer-related novels: an adaptation of the film Constantine, released in 2005, and Warlord and Subterranean , a pair of original novels based around the Constantine seen in the comics, both of which were released in 2006.
References
Community content is available under
CC-BY-SA
unless otherwise noted.