Joyride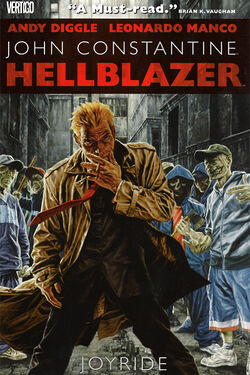 Aliases
John Constantine, Hellblazer: Joyride
Publisher(s)
DC, Vertigo, Titan Books
ISBN number
Vertigo ISBN 9-78140121-651-1
Joyride collects issues 230-237 of the Hellblazer series. It is the first book of Andy Diggle's run.
Publisher's description
In this volume collecting Hellblazer #230-237 by fan-favorite writer Andy Diggle, Constantine discovers that there is a supernatural cause for the violence, crime and drug abuse of South London's Hunger Hill housing estate, and he must bring this cycle of misery and violence to an end... at any cost.
Storylines collected
For detailed plot synopses, see the issues' individual wiki pages.
In at the Deep End
(Issue 230-231) Constantine's in it up to his neck - literally! Chained to a post by the Thames and doomed to drown by the rising tide, he has just minutes to convince his captor to free him, and work out why his life is in danger.
Wheels of Chance, Systems of Control
(Issue 232-233) Sick of being pushed around by forces beyond his control, Constantine revisits his old madhouse - Ravenscar Secure Facility - now an upmarket casino. With something nasty in the basement and a crime boss on his back, Constantine has everything to play for and everything to lose.
Joyride
(Issues 234-237) The Hunger Hill housing estate is bowed by crime, cruelty and murder. But the source of the problem lies not within the towering apartment blocks but out in the country. How are these two places connected, and can John intervene before more lives are destroyed?