Jurassic World: Dominion Dominates Fandom Wikis - The Loop
Play Sound
Jerry O'Flynn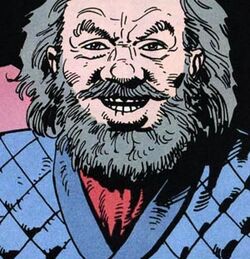 Occupation
Collector and dealer in rare items
Relationship to John
Friend
Status
Unknown (dragged into the realms of fiction)
Jerry O'Flynn is an English collector and dealer of rare and occult items and antiquities. His first appearance was in Hellblazer issue 23.
Appearance and personality
Jerry is a large man with an even larger personality. The kind of man who always wants to be the centre of attention, Jerry reacts poorly to similarly large characters - hence his dislike of Brendan Finn. However, when taken on his own terms he can be an entertaining host, if a little overbearing.
However, while he is an ally of John's, Jerry is not a good guy. He is a consummate businessman, gives nothing away for free and his craven need to possess the strangest, rarest artefacts has made him do some dubious things, including courting the serial killer The Family Man.
Fictional biography
How John Constantine and Jerry met has never been revealed, but they definitely met before 1983, when Jerry called upon John and Brendan Finn to acquire The Ace of Winchesters, an occult gun, from a New Yorker named Zeerke. They did so and netted all of them a hefty sum of money. (Hellblazer issue 76, 1988)
In March 1987 Jerry was contacted by Reed Hackett, a video nasty producer and serial killer obsessive who was interested in acquiring items from captured serial killers. Jerry did so until March of the following year, when Hackett demanded an item from a serial killer that was still at large. Jerry got in contact with The Family Man, a serial murderer who slaughters entire families; in exchange for an item for Hackett, Jerry offered The Family Man victims. He subsequently began placing adverts for 'Britain's Best Family' competitions, handing the names and addresses over to the killer. (Hellblazer issue 24, 1988)
Penniless after a particularly harrowing battle against The Fear Machine, John came to Jerry later that year to sell some of his demonic blood. But he found Jerry under siege in his own home. Jerry had spent much of his life hanging around with authors who would then put him in their books - consequently he had begun to exist more in the realms of fiction than in reality. John was unable to stop Jerry from being carried away into fiction by a cabal of literary characters. (Hellblazer issue 23, 1988)
Shortly after this, John - who was staying in Jerry's now-empty house - found out about Jerry's guilty secret and decided to hunt down The Family Man. (Hellblazer issue 24, 1988)
Notes
Jerry's appearance and personality are rather similar to those of the actor Brian Blessed.
Jerry is somewhat prejudiced against Irish people - ironic, given that his surname is of Irish origin.