How to Play With Fire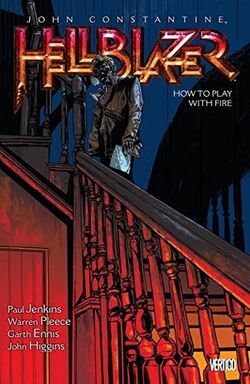 Aliases
John Constantine, Hellblazer: How to Play With Fire
Release date
January 13 2016

Collects HELLBLAZER #121-129
Publisher's description
John Constantine must discover the connection between disasters across the ages. Then, while Constantine's past catches up at home, the First of the Fallen unveils his new scheme in the U.S.
For a man as cynical and jaded as John Constantine, there's only one kind of torment for which he is unprepared: contentment. But the fact is (even though he recently cut off a piece of his soul and marooned it in Hell to suffer for his sins), things are actually going pretty well. He's got a new girlfriend that he hasn't yet killed or damned or driven insane; his surviving friends and family are, by all accounts, still alive and healthy; and his enemies, for the most part, are either dead or trapped in some form of eternal torment. Not a bad score, overall.
Naturally, this means that it's time for everything to go up in flames. Because when you're as prolific at making enemies as John Constantine is, there's always going to be a few that you don't know about, as well as one or two heavyweights who can afford to bide their time. When the two meet, it's best to get as far away as possible—the collateral damage alone promises to be as deadly as it is indiscriminate.
Community content is available under
CC-BY-SA
unless otherwise noted.