Hellblazer #91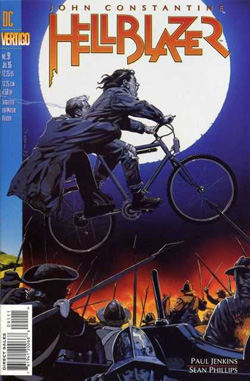 Story title(s)
'Riding the Green Lanes'
Colours
Matt Hollingsworth
John Constantine: Hellblazer #91 (July 1995)
Plot summaryEdit
Time gets well and truly warped as an English Civil War battle and a very modern battle collide - with John and some old friends stuck right in the middle!
ContinuityEdit
DiscontinuityEdit
Use this section to list contradictions with established continuity.
Use this section to list mistakes that have appeared in this issue.
The cover to this issue is a homage to Steven Spielberg's movie E.T.
Enjoy the soundtrack while you read.