Hellblazer #246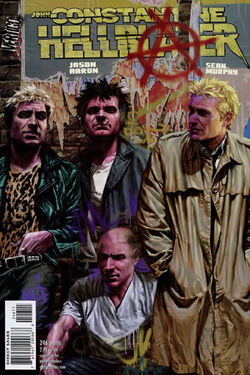 Story title(s)
'Newcastle Calling, part two of two'
Cover date
September 2008
John Constantine: Hellblazer #246 (Month and year) Part two of the two part "Newcastle Calling" story.
Plot summary
John finally returns to Newcastle after years of being away to deal with the strange deaths and abnormalities going on. It is later revealed to be the doing of the Norfulthing who was never dealt with since Astra was dragged to Hell. As such, it has caused a stream of negative murderous energy within Newcastle. This forces John to have to remember those horrid events of his past in the process.
Continuity
Use this section for listing in-story connections with Hellblazer and other comic books.
Discontinuity
Use this section to list contradictions with established continuity.
Goofs
Use this section to list mistakes that have appeared in this issue.
Notes
This would be the last entry of the main series the artist, Sean Murphy, would do before doing his own spin-off City of Demons story.