Hellblazer #238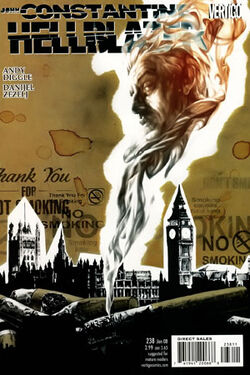 Story title(s)
'The Smoke'
John Constantine: Hellblazer #238 (JAN 2008) London becomes a veritable Hell on Earth for John Constantine when smoking is outlawed in pubs! But nicotine withdrawal is the least of his problems when he finds himself hunting a group of urban explorers who have disappeared into a shadowy parallel London.
Plot summary
Put a summary of the issue's contents here. Don't forget to link to the next issue if it's part of an ongoing storyline!
Continuity
Use this section for listing in-story connections with Hellblazer and other comic books.
Discontinuity
Use this section to list contradictions with established continuity.
Goofs
Use this section to list mistakes that have appeared in this issue.
Notes
Use this section for general notes on the issue and story.