Hellblazer #200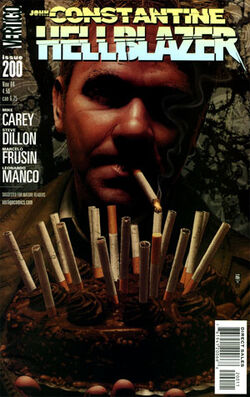 Story title(s)
'Happy Families'
John Constantine: Hellblazer #200 (NOV 2004) Happy Families. In this month's gala Hellblazer #200, John Constantine will face a threat even he could never envision: married life. Series writer Mike Carey is joined by a trio of past, present and future Hellblazer artists — Steve Dillon, Marcelo Frusin, and Leonardo Manco — for this 40-page tale that finds Constantine living a day of wedded "bliss."
Summary
John Constantine has survived his share of horrifying events: a bout with cancer, four-headed soccer hooligans, a stint in a maximum security prison, and more trips to Hell than he probably cares to recall. In this month's gala Hellblazer #200, he'll face a threat even he could never envision: married life.
In three separate-yet-connected tales, Constantine finds himself united in unholy matrimony to three women from his past, but, as the story unfolds, he soon realizes that a much more sinister force is behind what could be the worst day of his life. He lives forty years in one day, siring a child with each wife.
Appearing
Featured characters
Supporting characters
Antagonists
Plot
John wakes up from a nightmare. He takes his time getting ready, feeling horrible. He overslept again, but he's in no hurry. John heads downstairs and greets a woman and a five-year-old boy. We learn the woman is Kit, and today is their anniversary. The boy is their son, Adam. John drops his Adam off with a childminder, Mrs. Dask, while Kit heads off to work.
John heads to the El Dorado casino, where he is to meet a man named Monty Newman. He's clearly dreading the visit, as he's been putting it off for two weeks. Newman is not happy with John, as John owes him two thousand pounds.
In the next scene, John leaves to visit Kit "only fifty quid up". He is distracted by an ambulance and police car parked outside Mrs. Dask's place and a crowd of people. John panics, rushing towards the crowd and finding Adam. A policewoman asks if he knew Mrs. Dask, and John learns she has died. The police are unsure if it's an accident, as Mrs. Dask had diabetes and needed insulin, but that day it had apparently been replaced by drain cleaner.
John is at home, watching Kit read to Adam. John wants to stay home with Adam, as he'd been with Mrs. Dask's dead body for an hour and a half before the police arrived and doesn't want Adam to be alone. Kit insists on going out to dinner as planned, since it's their anniversary.
John is now in the pub with Chas, talking about the incident. They are interrupted by Newman, who confronts John over the money. Suddenly, Newman is shot from behind
Continuity
Use this section for listing in-story connections with Hellblazer and other comic books.
Discontinuity
Use this section to list contradictions with established continuity.
Goofs
Use this section to list mistakes that have appeared in this issue.
Notes