Hellblazer #138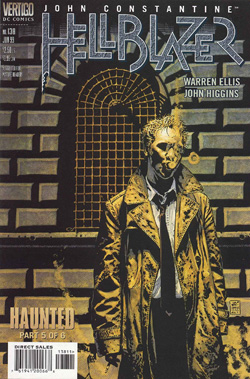 Story title(s)
'Haunted, part 5'
Colours
James Sinclair (colours), Digital Chameleon (separations)
John Constantine: Hellblazer #138 (June 1999)
Plot summary
Constantine stalks the streets of London, lost in thought and pondering the ghosts which seem to proliferate throughout his city. On his way to meet Chas , John stumbles across the police cleanup of Hawkstorm's murder by Wright. With his further plans for the dead man now pointless, Constantine steps up his endgame against Wright. Returning to Knightsbridge and the aging Clarice, Constantine is forced to explain his motives to the cynical woman before asking for an introduction to the ghost of Albert, court magician to the Kray twins.
As Josh Wright ponders his next move in the wake of John's recent actions, Constantine's plan swings into motion. Darren unleashes his crack magic, forcing Wright to experience a particularly nasty trip. As he flees his hourse, Josh stumbles in front of Chas's speeding cab and is sent stumbling to the ground. As he struggles against his crack inspired visions, Josh finds himself face to face with the grinning Watford who arrests him for Isabel's murder.
Continuity
Use this section for listing in-story connections with Hellblazer and other comic books.
Discontinuity
Use this section to list contradictions with established continuity.
Goofs
Use this section to list mistakes that have appeared in this issue.
Notes
Use this section for general notes on the issue and story.
Community content is available under
CC-BY-SA
unless otherwise noted.