Hellblazer #135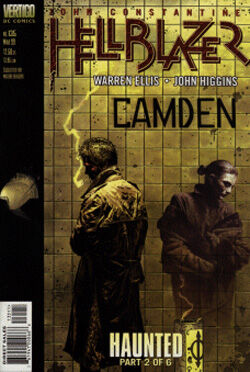 Story title(s)
'Haunted, part 2'
Colours
James Sinclair (colours), Digital Chameleon (separations)
John Constantine: Hellblazer #135 (March 1999)
Plot summary
Face to face with Isabel's ghost, John realises that she'll be stuck haunting the place where they first met until he solves the mystery behind her murder. Retiring to a local watering hole, Constantine reads through a diary he stole from Isabel's flat during Watford's guided tour. He learns that Isabel had recently befriended another magician - Joshua Wright and John believes him to be responsible for Isabel's murder.
Setting our for revenge, Constantine travels deep into the Camden tube station in search of Map, a powerful magician who's shunned his complicated life in favour of a simple life as a tube worker. John tells him of Isabel's murder and of Joshua Wright, a magician he has marked as a Aleister Crowley wannabe. Eager for more information on his prey, John visits a crack using friend and a mage turned electrican with whom he arranges a later meeting.
Things take a turn for the worse when Constantine is stood up and confronted by two thugs who proceed to kick seven shades of shite out of him before warning him off Josh Wright's back.
Continuity
Use this section for listing in-story connections with Hellblazer and other comic books.
Discontinuity
Use this section to list contradictions with established continuity.
Goofs
Use this section to list mistakes that have appeared in this issue.
Notes
Use this section for general notes on the issue and story.
Community content is available under
CC-BY-SA
unless otherwise noted.