Hellblazer #129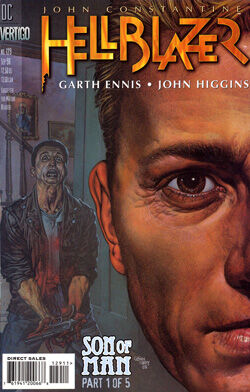 Story title(s)
'Son of Man, part 1'
Colours
James Sinclair (colours), Digital Chameleon (separations)
Cover date
September 1998
John Constantine: Hellblazer #XXX (Month and year) Put a brief synopsis of the issue's contents here.
Plot summary
Chas gets involved with a gangster named Harry Cooper when he tries to wipe out a debt and finds himself unknowingly made the getaway driver for a gang hit. He goes to John hoping to get some help in eliminating evidence, but John tells him that he can't cast a spell to make the car and body disappear so they dump them outside London. John then admits to Chas that he's met Harry before when the man's son was killed and Harry demanded that John bring him back from the dead. John tells Chas he couldn't, so he brought something else back instead. 
Continuity
Use this section for listing in-story connections with Hellblazer and other comic books.
Discontinuity
Use this section to list contradictions with established continuity.
Goofs
Use this section to list mistakes that have appeared in this issue.
Notes
Use this section for general notes on the issue and story.
Community content is available under
CC-BY-SA
unless otherwise noted.