Hellblazer #127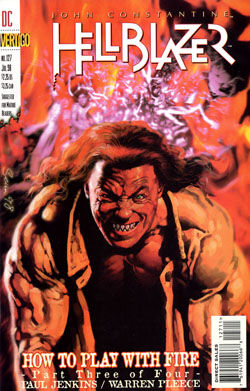 Story title(s)
'How to Play with Fire, part 3: Burning Down the House'
Colours
James Sinclair (colours), Digital Chameleon (separations)
John Constantine: Hellblazer #127 (July 1998) With John crushed, Ellie has no more need for Gavin, so she tells him the truth: that he was the one who killed Pam all those years ago. Constantine realises he has no choice but to sign his soul across to The First of the Fallen in exchange for the survival of his family and friends, selling out Ellie in the process. Finally, John goes on a very literal search for God.
Plot summary
Reeling from the events which have left his world in tatters around him, a desperate Constantine seeks help from an unlikely source - The First Of The Fallen. Using the card he received from The First at the end of Up The Down Staircase, John arranges to pay the First a visit.
A gloating Gavin has his finest hour shot to pieces when Ellie, still masquerading as Pam, reveals what really happened on the fateful night of Pam's death. It transpires that Gavin was responsible for the crash which killed her.
The First reveals to John that the spirits of Buer and Crowley have taken up residence in Weeble's body. Left with little choice, John signs a deal with The First as Gavin puts a gun to his head and blows his own brains out.
Acting on information from John, The First finds Ellie and exacts revenge on her for killing and dooming him to life as a Greek fisherman. John ropes Chas into giving him a lift to the forest where he plans to meet with God. Chas and John have a bitter row which ends in pain for Constantine as Chas vents some physical punishment on the con-man.
Alone in the middle of nowhere, John comes face to face with God.
Continuity
Discontinuity
Use this section to list contradictions with established continuity.
Goofs
Use this section to list mistakes that have appeared in this issue.
Notes
The sign of The First's storefront reads "George Spiggot, Proprietor." George Spiggott is the name used by the Devil in the 1967 film Bedazzled.
Community content is available under
CC-BY-SA
unless otherwise noted.