Hellblazer #110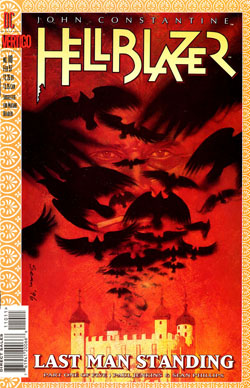 Story title(s)
'Last Man Standing, part one: a Different Kind of Tension'
Colours
James Sinclair (colours), Digital Chameleon (seperations)
John Constantine: Hellblazer #110 (February 1997) Sir Francis Drake's drum is beating out across the land, and the ravens have flown from the Tower of London. England is dying, and it's all connected to the sinister Mr. Meardon's plot to tarmac over the last sacred sites in the country. Sensing the terrible damage, King Arthur's men rise once more to find their champion.
Plot summary
Drake's drum is beating again, signaling that Britain is in great peril. Myrddin also known as Merlin has returned to modern day England and with the unwitting help of a greedy government is slowly killing the land as he searches for something Arthur (as in the one who pulled the sword from the stone) hid from him centuries before. King Arthur himself is in hiding and his court huddle together terrified atop the tower of London. All of this pales into insignificance in the face of John's blossoming relationship with Dani (that's a polite way of saying they're now sleeping together) and Rich's announcement that Slarky's pregnant. John gets the biggest shock of his life when he's asked to be the childs Godfather - his old insecurities rise to the surface and John is on the verge of refusing when Dani accepts on his behalf. As John has nightmares of a Dragon guarding a box, Arthurs court seek leadership from an unlikely source...
Constantine wakes to find Sandda of Arthur's court in his room. Not amused John demands an explanation. Sandda tells a sceptical John of Myrddin's return and asks that Constantine leads them against him. John considers his life as it stands, his relationship with Dani and his commitment to Rich and Slarky before telling Sandda to sling his hook.
Continuity
Discontinuity
Use this section to list contradictions with established continuity.
Goofs
Use this section to list mistakes that have appeared in this issue.
Notes
Use this section for general notes on the issue and story.
Community content is available under
CC-BY-SA
unless otherwise noted.