Hellblazer #109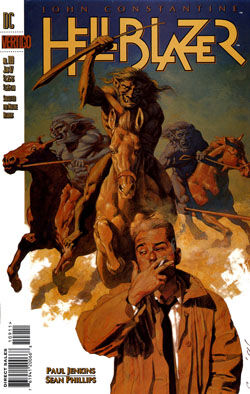 Story title(s)
'The Wild Hunt'
Colours
James Sinclair (colours), Digital Chameleon (seperations)
John Constantine: Hellblazer #109 (January 1997)
Plot summary
Cattle mutiliations in Yorkshire hold no interest for Constantine until a nosy tabloid reporter chases him out of London. Once in the country, John discovers that one of the villagers is transforming into a werewolf, but this strange case of lycanthropy is only a portent of worse things to come...
Continuity
First Appearance: Danita Wright (a tabloid reporter; soon to be Constantine's latest flame).
Discontinuity
Use this section to list contradictions with established continuity.
Goofs
Use this section to list mistakes that have appeared in this issue.
Notes
Use this section for general notes on the issue and story.