Hellblazer #106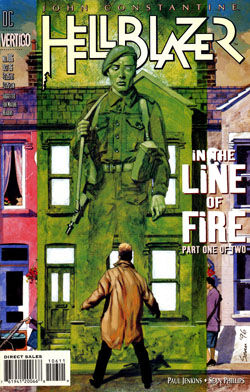 Story title(s)
'In the Line of Fire, part 1'
Colours
James Sinclair (colours), Digital Chameleon (seperations)
John Constantine: Hellblazer #106 (October 1996)
Plot summary
A house that doesn't exist and a body that should never have been discovered; Constantine stumbles across a suicide that never went away, and exposes the hapless ghost to a destructive Council officer.
Continuity
First Appearances: Jack Loudfoot (ex-WWII soldier, a ghost), Ellen, AKA Nellie (Jack's former fiancee), Bill (Nellie's present husband), Mr. McGillicuddy (Council jobsworth given the task of evicting squatters)
Discontinuity
Use this section to list contradictions with established continuity.
Goofs
Use this section to list mistakes that have appeared in this issue.
Notes
Use this section for general notes on the issue and story.
Community content is available under
CC-BY-SA
unless otherwise noted.