Hellblazer #101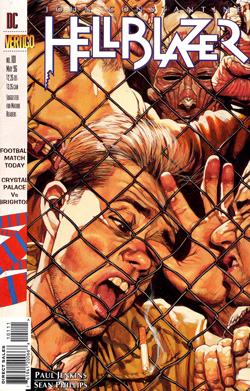 Story title(s)
'Football: it's a Funny Old Game'
John Constantine: Hellblazer #101 (May 1996)
Plot summary
Chas and Rich drag John out of his convalescent bed to see Crystal Palace take on Brighton, much to his annoyance. Things get even worse when the anthropomorphic personification of football violence makes a personal visit...
Continuity
Use this section for listing in-story connections with Hellblazer and other comic books.
Discontinuity
Use this section to list contradictions with established continuity.
Goofs
Use this section to list mistakes that have appeared in this issue.
Notes
Use this section for general notes on the issue and story.
Community content is available under
CC-BY-SA
unless otherwise noted.