Hellblazer Annual #1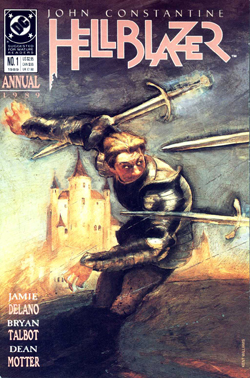 Story title(s)
'The Bloody Saint'/'Venus of the Hardsell'
Colours
Lovern Kindzierski
John Constantine: Hellblazer Annual #1 (Undated) 1982: Constantine is released for the fourth time from Ravenscar Secure Facility. Teetering on the edge of another nervous breakdown, he meets a strange woman outside the House of Commons before drifting into a vision of Kon-stan-tyn, a distant ancestor and the last of the pagan kings.
Plot summary
Set back in the early eighties, with Constantine still in and out of Ravenscar on a regular basis, we're presented with a John living on the very edge of sanity. Struggling to come to terms with the changes in the world around him, Constantine stumbles drunkenly through the streets of London. Strung out on medication, he encounters an old friend from his music days who's turned into a wheeling dealing yuppie-esque creep.
As the aforementioned dealer heads off to pick up a shipment of coke, John is consumed with anger at his failure and inability to fight the system. On the verge of being arrested, Constantine is saved by a strange woman who speaks to him of chained Goddesses and long dead warrior queens. The two retire to John's flat and spend the night together, in the morning Constantine finds himself alone. As he considers the events of the day before, John drifts asleep and dreams of the ancient king Kon-sten-tyn.
A backup story depicts the music video for Mucous Membrane's Venus Of The Hardsell, with art by Dean Motter.
Continuity
Community content is available under
CC-BY-SA
unless otherwise noted.