Haunted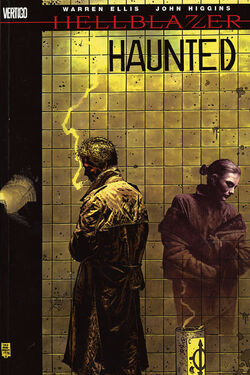 Aliases
John Constantine, Hellblazer: Haunted
Publisher(s)
DC, Vertigo, Titan Books
Haunted collects issues 134-139 of the Hellblazer series.
Publisher's description
Warren Ellis' first Hellblazer story arc is collected in this volume reprinting issues #134-139! When John Constantine's old friend Isabel Bracknell turns up dead, he goes in search of the reasons behind it. But his investigation earns him a beating from the so-called "magician" responsible. Can Constantine help Isabel rest in peace?
Storylines collected
For detailed plot synopses, see the issues' individual wiki pages.
Haunted
(Issue 134-139) The horribly mutilated body of an old girlfriend sets John down a dark and winding path into London's occult scene. Can he track down her killer and lay her ghost to rest before he winds up the same way?