Goran Sudžuka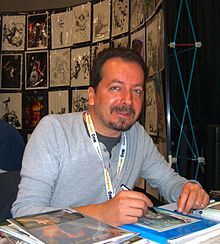 Date of birth
23 December 1969
Birthplace
Zagreb, Croatia
Role(s) on Hellblazer
Artist
Hellblazer specials and books
Total number of issues/books
10
Goran Sudžuka (born December 23, 1969, Zagreb) is a Croatian comic book artist.
Biography
Sudžuka who began his work in animation and later began to publish with Darko Macan in Croatia and Germany.
His works include Outlaw Nation, Y: The Last Man and Lady Constantine with Andy Diggle.
As part of the Hellblazer 20th anniversary publications he will be drawing a mini-series based on John Constantine's longest surviving friend called, Chas: The Knowledge, written by Simon Oliver.
Bibliography
Outlaw Nation (with Jamie Delano, Sebastijan Camagajevic and Goran Parlov, Vertigo, 19 issue series, 2000–2002, TPB, 456 pages, Image Comics, 2006, ISBN 158240707X)
Hellblazer:

Lady Constantine (with Andy Diggle, DC, four issue mini-series, 2003, TPB, 96 pages, 2006, Titan Books, ISBN 1-84576-263-0, DC]], ISBN 1-4012-0942-4)
[[Chas: The Knowledge (with Simon Oliver, five-issue limited series,

Vertigo

, 2008)
Awards
2001: Won The Russ Manning Most Promising Newcomer Award
2006: Nominated for "Best Serialized Story" Eisner Award, for Y: The Last Man #37-39: "Paper Dolls"
External links