Freezes Over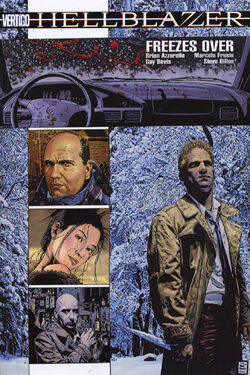 Aliases
John Constantine, Hellblazer: Freezes Over
Publisher(s)
DC, Vertigo, Titan Books
Freezes Over collects issues 157-163 of the Hellblazer series.
Publisher's description
Reprinting issues #157-163 of the series, Hellblazer: Freezes Over collects the "...Freezes Over" storyline illustrated by Marcelo Frusin (Hellblazer: Good Intentions) as well as the one-shot "... And Buried?" illustrated by Steve Dillon (Preacher) and the two-part "Lapdogs and Englishmen" illustrated by Guy Davis (Sandman Mystery Theatre). In these three episodes, after another unwelcome meeting with FBI Agent Turro, Constantine continues his journey through America's back roads.
Storylines collected
For detailed plot synopses, see the issues' individual wiki pages.
...And Buried
(Issue 157) Constantine meets with Agent Turro, who gives him some vital information. Meanwhile, a gang of miscreants discuss a murdered colleague.
...Freezes Over
(Issue 158-161) Heavy snowfall leaves Constantine trapped in a bar with some nervous civilians and a pack of violent criminals - a situation made worse by rumours of a serial killer and the discovery of a murdered man outside. And as the temperature outside drops, the tension in the bar reaches boiling point...
Lapdogs and Englishmen
(Issue 162-163) Constantine recalls his punk days and a meeting with a rich young man named SW Manor.
Community content is available under
CC-BY-SA
unless otherwise noted.