Empathy is the Enemy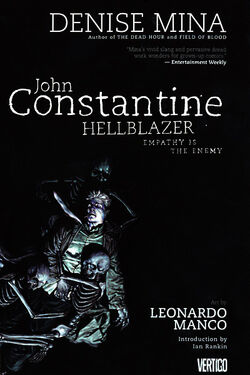 Aliases
John Constantine, Hellblazer: Empathy is the Enemy
Publisher(s)
DC, Vertigo, Titan Books
Empathy if the Enemy collects issues 216-222 of the Hellblazer series. It is the first of two books by Denise Mina.
Publisher's description
Collecting award-winning novelist Denise Mina's (Garnethill, Deception, Field of Blood) take on the hard-drinking master of bad-luck magic from Hellblazer #216-222. When an ordinary man innocently uses an incantation, he turns to Constantine for help. But when an infamous Scottish occultist gets involved, Constantine discovers he has been cursed with empathy for his fellow man and realizes that the nightmare has just begun.
Storylines collected
For detailed plot synopses, see the issues' individual wiki pages.
Empathy is the Enemy
(Issue 216-222) Constantine's sworn off magic, but when a desperate man comes to him begging to undo a curse of empathy he thinks he can just intervene a little. He's wrong. Soon John finds himself caught up in the machinations of a cult who want to fix the world - but might end up destroying it!
Community content is available under
CC-BY-SA
unless otherwise noted.