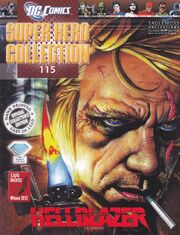 '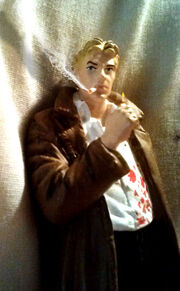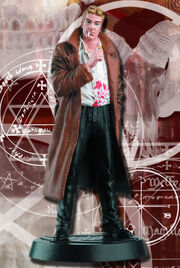 Eaglemoss Super Hero Collection #115
Eaglemoss Super Hero Collection is a quarterly publication in which each issue focuses on a specific comic book character, the character's origin/backstory, other important characters with whom the featured interacts, crucial stories, timeline, etc. Most notable of the Eaglemoss Super Hero Collection is its inclusion of a 4 inch tall sculpted lead figurine of each month's featured character.
Eaglemoss #115 - the Magazine
Issue 115 of the Eaglemoss publication was about John Constantine, Hellblazer. The Hellblazer issue, similarly to the DC version of John Constantine, was poorly done and included several errors and omissions in its synopsis of the Hellblazer timeline, including: skipping over the runs of several of the writers; it only mentions the artists on the title page with a "thanks; and it gave entirely incorrect descriptions regarding the death of Phoebe and the reason for Gemma seeking revenge on John.
Eaglemoss #115 - the Figurine
In contrast to the poor quality of info contained in the magazine, the figurine is quite epic. It is well sculpted, skillfully painted, a nice collectible for the Hellblazer collector.
Community content is available under
CC-BY-SA
unless otherwise noted.