Dark Entries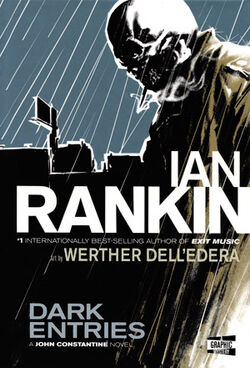 Publisher(s)
DC, Vertigo Crime, Titan Books
Dark Entries is an original graphic novel released under Vertigo Comics' 'Vertigo Crime' sub-imprint. Although it stars John Constantine, it was released without the 'Hellblazer' logo.
Publisher's description
Mixing the very best talents in crime writing with red-hot artists, the "Vertigo Crime" series represents a new era in four-colour capers - for adults only! Occult detective John Constantine has seen his share of the strange, but nothing could prepare him for reality TV! When the macabre location of hit show "Haunted Mansion" starts attacking the contestants, Constantine is hired to investigate. Locked in with a cast of celebrity wannabes and monitored by a deadly figure from his past, John must figure out who (or what) is pulling the strings before he gets cancelled - permanently! International best-selling crime writer Ian Rankin (Rebus) and artist Werther Dell'Edera (Loveless) present a chilling, locked-room mystery starring John Constantine! And enjoy the soundtrack to the story while you read.