DangerousHabits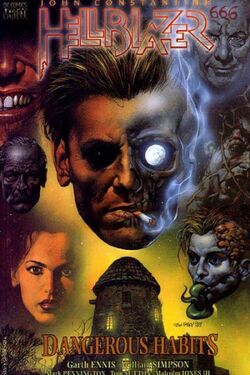 Aliases
John Constantine, Hellblazer: Dangerous Habits
Publisher(s)
DC, Vertigo, Titan Books
Dangerous Habits Collects issues 41-46 of the Hellblazer series.
Publisher's description
John Constantine is dying. As a sorcerer literally haunted by the demons of his past, John is no stranger to mystic bedevilment or supernatural horror. But it's his chain smoking that ultimately brings death to Constantine's front door. John Constantine has lung cancer. Though condemned to Hell, Constantine continues to laugh in the face of this all-too-serious world. Despite it preternatural overtones, this story is actually a down-to-earth tale about life, death, and the little details in between.
Storylines collected
For detailed plot synopses, see the issues' individual wiki pages.
Dangerous Habits
(Issues 41-46) With cancer rotting his lungs and his days marked in double-digits, Constantine searches Heaven and Hell - literally - for a cure. But when all the doors are closed to him, what terrible price will he pay to keep his body intact?
Additional Material
This book includes an introduction by its author, Garth Ennis.