Damnation's Flame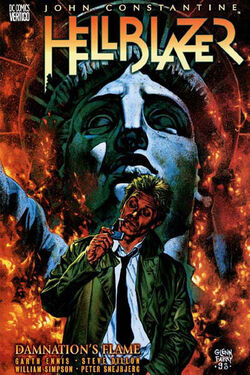 Aliases
John Constantine, Hellblazer: Damnation's Flame
Publisher(s)
DC, Vertigo, Titan Books
Damnation's Flame collects issues 72-77 of the Hellblazer series.
Publisher's description
In this collection of HELLBLAZER tales, John Constantine finds himself reeling from the loss of his lover Kit and badly beaten by the streets of London. Looking for some time to regroup, the trench-coated mystic heads to New York City. But during his mystically-induced hallucinatory journey across America, the Hellblazer finds himself confronting demons from the past and from within as he stumbles upon a deceased friend and attends his own funeral.
Storylines collected
For detailed plot synopses, see the issues' individual wiki pages. Where a storyline spans several issues but has no over-arcing title, the title of the first issue is used.
Damnation's Flame
(Issue 72-75) Back on his feet but still off-kilter, John decides to get away from it all by visiting New York. However, Papa Midnite is still in town and bearing a grudge - which means big, big trouble for John.
Act of Union
(Issue 75) A flashback short story that reveals Kit's first-ever meeting with John.
Confessions of an Irish Rebel
(Issue 76) Catching the plane back from the US, John stops off in Dublin where he meets the ghost of his dead pal Brendan Finn.
And the Crowd Goes Wild
(Issue 77) Chas regails his friends with the story of how Constantine ended up attending his own funeral.
Community content is available under
CC-BY-SA
unless otherwise noted.