This may not be the page you're looking for. Please see Constantine (disambiguation) for other pages titled Constantine.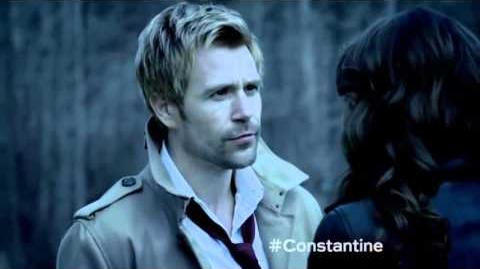 Constantine is an American television series air on NBC from 2014 to 2015, based on the characters appearing in the comic series Hellblazer published by DC Comics under their Vertigo imprint.[1] The series stars actor Matt Ryan as John Constantine.[2][3] The pilot episode was directed by Neil Marshall and written by Daniel Cerone and David Goyer.
Many of the show's characters and plotlines are adapted from the Hellblazer series, while the show's American setting, tone, title and connection to a larger DC Universe (The CW's Arrow and The Flash) have more resemblance to the comic book series of the same title.
Cast
Development
The series will remain more faithful to the source material than the 2005 film, although on-screen depiction of Constantine's chain smoking habit will be absent due to broadcast television restrictions.[7][8]
In July of 2014, controversy began when executive producer Daniel Cerone stated that the title character would be straight, where in the comics he is bisexual. "In those comic books, John Constantine aged in real time. Within this tome of three decades [of comics] there might have been one or two issues where he's seen getting out of bed with a man. So [maybe] 20 years from now? But there are no immediate plans," were his exact words. This has led to the outrage of many fans and LGBT outlets, leading to some boycotting the show.[9]
However this controversy was abundantly laid to rest after producer David S. Goyer explained in a questioner panel at Comic-con 2014 that they had never outright stated John would be straight in the television series and that such allegations had erupted from a simple misinterpretation of the title of Daniel Cerone's interview. David Goyer simply states that they "won't have John getting out of bed with a man in the pilot". As to whether the writers and producers will keep true to the comics and only mention John's Bisexuality vaguely is still up for discussion.[17]
At New York Comic Con, John's Bisexuality was finally acknowledged by the directors and NBC. As to whether or not they will say or even references it into the TV series is still unknown.
References
External links