Francis Chandler
Abilities and skills
Capable brawler with some knowledge of martial arts; expert knowledge of London's streets, capable marksman.
John Constantine 's closest and longest surviving friend.
Chas Chandler works as a taxi driver in London, which Constantine uses to his advantage making Chas his main form of transportation. Due to their close friendship Constantine prefers to keep Chas away from the more dangerous aspects of his work, but it's the same friendship which allows Constantine and Chas to pull each other out of bad situations.
The two first met when John became a lodger at Chandler's apartment run by Chas's mother Queenie; who was also a deranged magician. John kills Queenie and rescues Chas, and the two developed a close bond with each other. Chas forever believed he was indebted to John, but in a friendly manner. Chas was also a member of John's punk band Mucous Membrane as a roadie.
He is married to Renee Chandler and father to Geraldine Chandler, with a granddaughter, Tricia Chandler. He is also the protagonist of the Hellblazer spin-off Chas: The Knowledge, which chronicles his effort to defeat and seal a malevolent demon who was rampaging in London, without John's help.
He also appeared in the main DC Universe, appearing in comics such as Constantine (an Earth 2 version of him), before finally making a full comeback in The Hellblazer: Rebirth.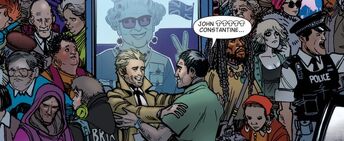 Other versions
In the 2005 Constantine film, the character of Chas Kramer, played by Shia LaBeouf, was loosely based on Chas Chandler. Chas Kramer, however, was a young American man portrayed as John Constantine's student or sidekick.
In the Constantine TV series, Chas Chandler is played by Charles Halford. This version of Chas is also American, but appears to be John's contemporary. He drives an American yellow taxi cab. He also has "survival skills" which may be supernatural in nature; in the series' pilot, he is shown surviving what would appear to be a fatal electrical shock. In Episode 5 of the series, Chas is shown coming back from life after being stabbed to death. In episode 10, it is revealed that Constantine cast a protection spell on Chas created by Merlin. This spell allowed Chas to survive a bar fire that killed 47 others by absorbing their lives. Because of this, Chas is not immortal but can die 47 times.