Buer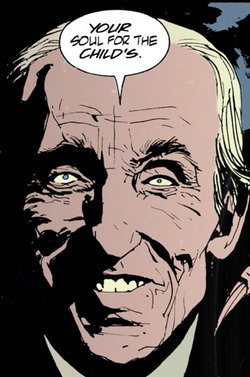 Occupation
Lord over all Children in Hell
Buer is a demon who Lords all of the children that were sent into Hell. He is a the main antagonist of the Critical Mass storyline.
In the story, he plans to return the First of the Fallen back as the ruler of Hell by getting rid of Constantine. He does this by possessing the son of John's friend Rich, holding him hostage and forcing John to kill himself.
His plan soon backed fire when John managed to find a way by creating a separate entity that would take his place in death, and while Buer succeeded in getting the First back to power, John was left unscathed. Worse was that many of the children he possessed in Hell, including Astra, was freed during the confrontation. This enraged the First and he destroyed Buer in return.