The Books of Magic: Life During Wartime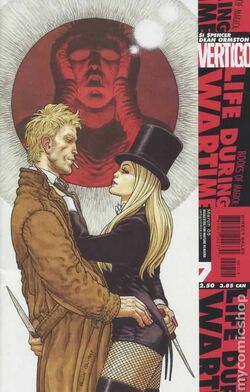 Story title(s)
'The Books of Magic: Life During Wartime'
Art
Dean Ormstrom
Steve Yeowell
Duncan Fegredo
Collected in
The Books of Magic: Life During Wartime
Next issue
The Books of Magic: Life During Wartime issue 1
The Books of Magick: Life During Wartime (2004-05)
Plot summary
Books of Magick: Life During Wartime is a fantasy comic book series published by DC Comics under their Vertigo imprint in 2004 and 2005 that was discontinued after fifteen issues.
All of the issues are written by Si Spencer, with some script consultation done by Neil Gaiman. The artwork is done solo by Dean Ormston throughout most of the series' run. Steve Yeowell is co-credited as an artist in issues eleven and twelve and Duncan Fegredo fully replaces Ormston for issues six and ten.
The series depicts the events that take place on two fictional worlds, both of which are connected through an alternate version of the character Timothy Hunter.
When Timothy Hunter first appeared he was a young boy who had the potential to be the world's most powerful magic user. He starred in his own series titled The Books of Magic. Over the course of the character's history he changed and aged.
The idea behind Books of Magick: Life During Wartime was to present a more mature version of The Books of Magic without the character's past continuity attached. During the planning stage a problem appeared. A series of books based on the comics and also titled The Books of Magic had been released and marketed in this form to children. Books of Magick: Life During Wartime depicts nudity and sex, as well as a higher degree of violence than The Books of Magic. Although tastefully depicted these things make it a series inappropriate for children and there were fears that the new series and the books could be confused in some sectors. The decision to change 'Magic' to 'Magick' and to add the words 'Life During Wartime' was made and the series went forward.
Characters
Timothy Hunter - The most powerful magic user on the real Earth. He is worshiped as a god, but hates it. He only wants the war to stop.
John Constantine and Zatanna - They are two of Tim's closest friends and key players around which events move. These two characters are based on the DC Universe characters of the same names (see John Constantine and Zatanna).
Molly - She is Tim's girlfriend on Hunter's World.
Cat and Dog - They are brother and sister and Tim's close friends on Hunter's World.
Brewster - He is the only other person living on Hunter's World not created by Tim. His mission is to safeguard Tim for the Coalition and to ensure his memory of the real world returns when it needs to.
Lord Midian - A Faerie and one of the leaders of Coalition. He is in charge of the Coalition's Navy.
The Faerie Queen - She is the leader of the Born and rules over Earth from her palace in Jerusalem.
Continuity