Jurassic World: Dominion Dominates Fandom Wikis - The Loop
Play Sound
Bloodlines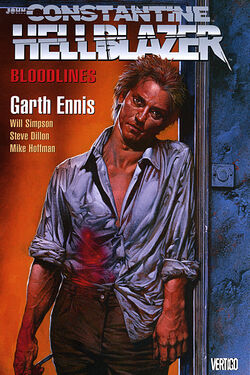 Aliases
John Constantine, Hellblazer: Bloodlines
Publisher(s)
DC, Vertigo, Titan Books
Bloodlines Collects issues 47-50, 52-55 and 59-61 of the Hellblazer series.
Publisher's description
Collecting two pivotal storylines and a one-shot from acclaimed writer Garth Ennis. Reprinting Hellblazer #49 (featuring a very special Constantine Christmas), #52-55 ("Royal Blood," which pits Constantine against the demon Calibraxis), and #59-61 ("Guys and Dolls," which sets the stage for the final showdown between Constantine and the First of the Fallen).
Storylines collected
For detailed plot synopses, see the issues' individual wiki pages. Where a storyline spans several issues but has no over-arcing title, the title of the first issue is used.
The Pub Where I Was Born
(Issues 47-48) An arson attack leaves a pub burned to the ground and its landlady dead. But that won't stop her and her long-dead husband from getting revenge on the attackers. Can John Constantine convince them to back off before they damn their souls to Hell?
Lord of the Dance
(Issue 49) Constantine cures his Christmas blues and helps out an ancient pagan god along the way.
Remarkable Lives
(Issue 50) His relationship with Kit has left Constantine feeling on top of the world - but a midnight meeting with The King of the Vampires will change all that...
Royal Blood
(Issue 52-55) Horrific murders suggest that Jack the Ripper has risen from the grave to stalk London again. but as Constantine investigates, he discovers a much stranger truth - one that leads up to the very top of the royal family!
Guys and Dolls
(Issues 59-61) The First of the Fallen is on the trail of the succubus Ellie. What is her connection to Constantine's past, and will he be willing to risk everything to help her out?