Black Flowers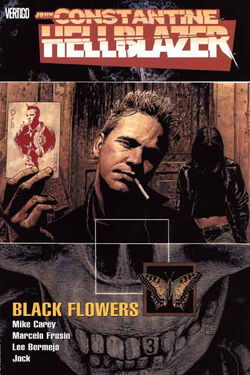 Aliases
John Constantine, Hellblazer: Black Flowers
Publisher(s)
DC, Vertigo, Titan Books
Black Flowers collects issues 180-186 of the Hellblazer series.
Publisher's description
Continuing Mike Carey's acclaimed run on Hellblazer, Black Flowers rachets up the suspense as Constantine begins to see — and battle — the signs of a coming apocalypse in the stories "The Game of Cat and Mouse," the two-part "Black Flowers" and the three-part "Third Worlds" from issues #181-186.
Storylines collected
For detailed plot synopses, see the issues' individual wiki pages.
The Game of Cat and Mouse
(Issue 181) A message from a dead friend tips John off that vicious demons named Lukhavim are out to get him. But when his preparation fails him and his soul is ripped from its body, John's spirit must flee its attackers in the dark alleys and secret places of London.
Black Flowers
(Issues 182-183) The doors between this world and another one are opening, and a long-dead pagan king demand's Constantine's help. With the souls of warriors possessing innocent townsfolk and ghoulish, murderous shepherds floating across the land, it's a race against time for John to save the day.
Third Worlds
(Issue 184-186) With the doors open and the Shadow Dog loose upon the Earth, John and his new ally, Angie Spatchcock, travel across the globe in search of answers. On the way they find themselves playing poker for human souls, trapped in the Aboriginal Dreamtime, visiting the Garden of Eden and meeting the Swamp Thing.